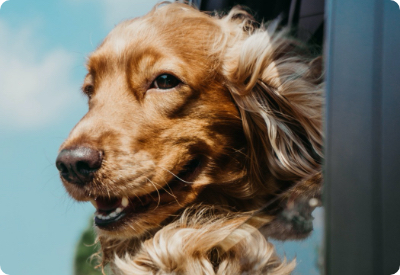 The decision on whether or not to make your vacation rental pet friendly is a big one. Like most things there are alot of pros and cons to consider when making this decision.
When we talk about pets in a vacation rental, we are largely talking about dogs. Although, I have witnessed a guest ask if she could bring her pet bunny that was potty trained to a vacation rental. Any request to bring a pet outside of a dog should be vetted and be carefully considered on a case-by-case basis. Cats in particular are not known for their love of traveling or being in unfamiliar environments, which could lead to some well intentioned, but disastrous consequences.
So for the sake of this article, let's stick to whether or not to allow dogs in your vacation rental.
Pros Of Being Pet Friendly
With more people choosing to vacation at drive to destinations, the decision on whether or not to bring the family dog will come up more. If your guest is set on bringing their dog(s), they will likely use a search filter to only view pet friendly vacation rentals. If you are not pet friendly, you are eliminating yourself from ever being seen by this entire demographic. Most folks who elect to travel with their dog probably do so on a regular basis. Therefore, it is reasonable to assume that the dog is accustomed to staying in new places and is capable of being a good guest.
If you are going to allow your vacation rental to be pet friendly, it is standard to charge a fee for the privilege of bringing your dog. This also might detour a guest from bringing a dog that they don't feel is worth paying for, which can help weed out some bad apples. You can charge per night, per pet per night or per stay. Which can help increase your average nightly rate for that booking. All good things to contemplate on the benefits of being a pet friendly vacation rental.
Cons Of Being Pet Friendly
On the other hand, not all pets or pet owners are created equally and not every experience may be positive. An irresponsible pet owner might leave their pet locked in the bathroom while enjoying the day's planned activities and come back to damaged floors or doors. A pet could be accident prone and soil your couch or carpet enticing any other animal to do the same in that spot, racking up hefty carpet cleaning bills. Not to mention muddy paw prints or your furniture covered in fur.
An additional consideration if you are considering your vacation rental to be pet friendly is you can absolutely set guidelines and parameters for the pets you are willing to accept. For example, age requirements, a puppy is much more prone to destructive behavior than an adult dog. Other requirements such as the dog needs to be spayed or neutered, be treated with flea control medication, have current vaccinations or a maximum number of dogs can be set. All great options to make you feel more comfortable with allowing dogs in your home.
Bear in mind that not all locations or accommodations are even suitable for pets. This consideration should only be made for places where it might make sense to bring a pet.
The good thing about policies, is that they can always change. If you decide to go pet friendly, you can always decide down the road to change that, or vice versa.