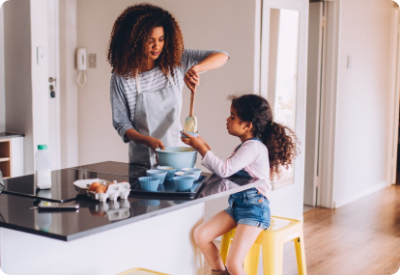 Finally, you've just purchased your first vacation rental and now the fun part begins.  Prepping your new property for excited travelers to enjoy and reaping the benefits of your hard work.  Unless you are a professional property manager, it can seem daunting to decide what amenities to include, as well as what sets you apart from the competition.  We've compiled a list of all "Vacay Standard" amenities to include, plus many optional ideas that create a fantastic guest experience.  
What is the Vacay Standard exactly?  Here is a list of amenities that are expected in most vacation rentals to ensure an optimal experience.  This would be the starting point for any vacation rental property.  
Dishes, glasses & silverware for the total number of guests

Cooking utensils (pots, baking pans, bowls, measuring cups, spatulas, pot holders, wine opener, can opener, bottle opener, cutting board, colander)

Refrigerator, freezer & ice trays or ice maker

High speed internet (bonus if you're able to display exact speeds in your listing)

Oven, microwave & stove or cooktop

Bed linens & 2 pillows adequate for each guest

Bath & kitchen towels – adequate for total number of guests

Safety equipment – smoke alarm, carbon monoxide alarm & fire extinguisher

Climate control (bonus for smart thermostat)

Small appliances: coffee maker, coffee grinder, toaster, waffle maker & blender

Garbage & recycling cans

Hair dryer

Ironing board & iron

Clothes hangers

Washer, dryer & laundry detergent

Cleaning supplies

Vacuum, broom & mop

Toilet brush & plunger

Paper towels & toilet paper

Complimentary toiletries

Hot water heater

Shower & bathtub
What about above and beyond the Vacay Standard as well as stocking your property with non-perishable items that are regularly used?  Here's a ideas to get you started: 
Kitchen:
Coffee (grounds, pods or whatever is needed for your specific coffee maker's requirements)

Coffee filters (if needed)

Sugar

Tea

Salt & pepper

Cooking Oil

Cleaning sponges

Dish soap & dishwasher detergent 

Garbage bags

Hand soap
Miscellaneous:
First aid kit

Light bulbs

Batteries

Ear plugs

Propane (if applicable)

Sunscreen or bug spray
What if you'd really like to WOW your guests?  We have some fantastic ideas to create the ultimate 5-star experience:
Robes

Local beer or bottle of wine

Chocolate or candy basket

Cocktail mixers

Basic perishables at check-in (milk, butter, eggs, fruit, creamer)

Local artist artwork (available for purchase)

Wine and coffee specific glassware

High chair, booster seat, crib, spare diapers and other kid-friendly items

Complimentary TV streaming services

Smart locks

Phone charging stations

Board games, puzzles and playing cards

Pet friendly amenities (food & water bowls, treats, spare leash, waste bags)

Sports equipment (balls, cornhole, ping pong)

Outdoor speakers
While many vacation rentals do not include extras, your guests will appreciate these small details.  By considering your guests' needs, you'll make them feel more relaxed at home, resulting in a memorable vacation.